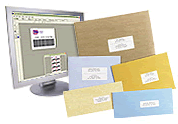 Unistat Label Star 4.0
A software program to create and print Unistat labels in no time flat!
Mail Merge
Import addresses easily for creating mailing labels.
Zip Code Finder
Find a Taiwan zip code by entering an address. Only available in Traditional Chinese version.
Market your Business
Create serial numbering and bar code. Or import your own graphics and logo.
Multi-language
Choose from Traditional Chinese, Simplified Chinese, English, Korean or Thai version
System Requirements:
- Windows 2000, ME, XP or VistaTM
- Microsoft Office 2000, XP or 2003
- Internet Explorer® 5.0 or later
- 20 MB available disk space
Software Step Guide:
Click here to download step-by-step guide.
Formatting & Tips
Before you print onto a label sheet, first print onto a blank piece of paper. Place the printed sheet in front of a label sheet, and then hold the sheet up to a light to make sure the positioning is correct. Also, refer to your printer manual for loading and feeding recommendations. Many printers have special instructions for loading labels. For trouble-free label printing, have your printer thoroughly cleaned on a regular basis.